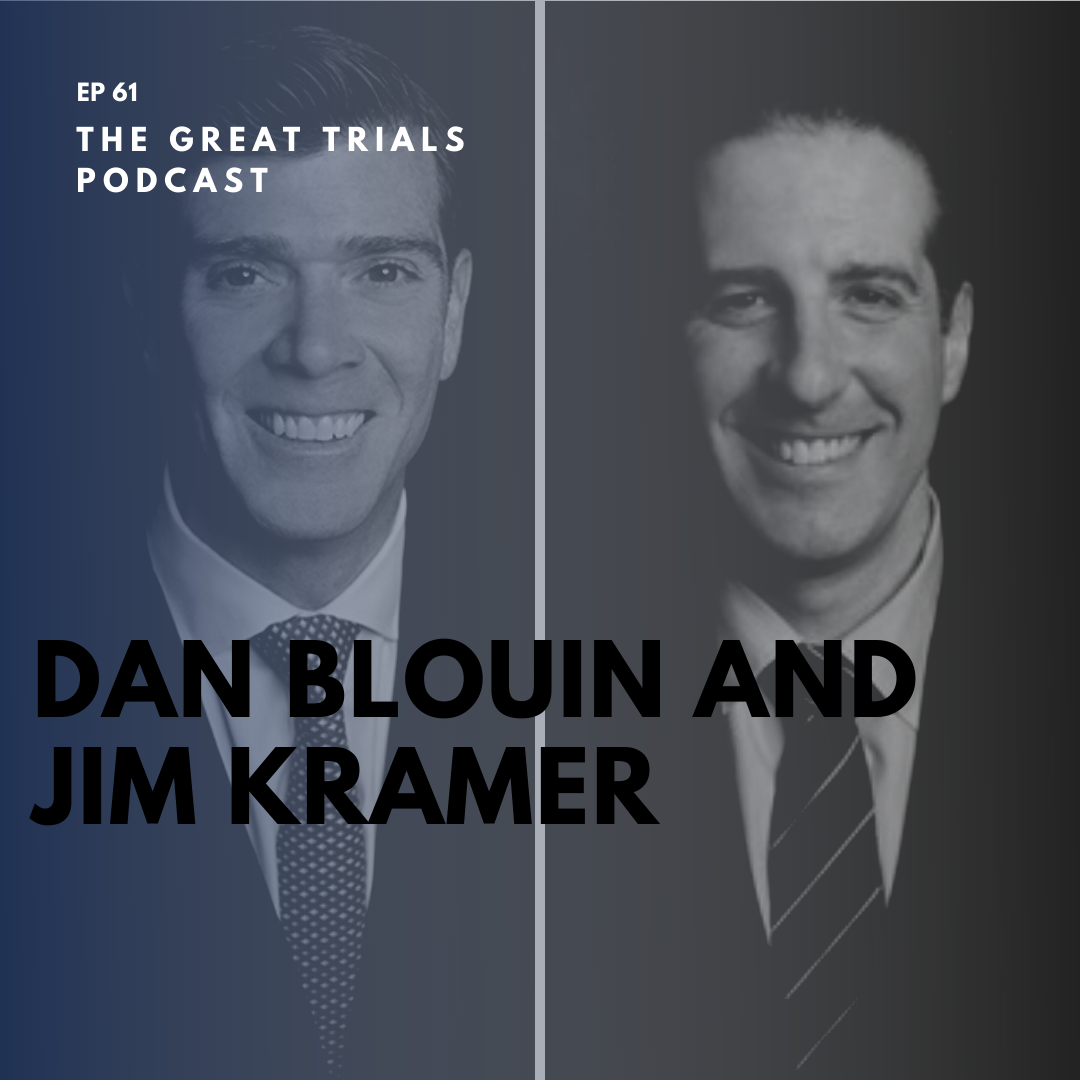 This week, your hosts Steve Lowry and Yvonne Godfrey interview Dan Blouin and Jim Kramer of Simmons, Hanly, Conroy (https://www.simmonsfirm.com/).
Remember to rate and review GTP in iTunes: Click Here To Rate and Review
Case Details:
Accomplished mesothelioma and asbestos attorneys Dan Blouin and Jim Kramer explain how they secured justice for the family of laborer Pietro Macaluso, who died from mesothelioma after being exposed to asbestos dust while servicing and removing boilers. Despite the fact they knew it was hazardous, three boiler manufacturers used asbestos-filled insulation, cement, gaskets, tape and wire in their equipment and failed to warn workers like Pietro of potential health hazards or to offer safe handling methods. A New York City jury found the three manufacturers negligent and assigned 25 percent of the blame for Pietro's wrongful death to each company, along with smaller percentages to seven other manufacturers. The jury awarded a $60 million verdict, including 21 years of compensation to Pietro's son and daughter. 
Click Here to Read/Download the Complete Trial Documents
Guest Bios:
Dan Blouin
Attorney Daniel Patrick Blouin is a shareholder at Simmons Hanly Conroy in the asbestos litigation department. Based in the firm's New York office, Daniel has secured hundreds of millions of dollars on behalf of clients diagnosed with asbestos-related diseases such as mesothelioma and lung cancer. In his frequent role as lead trial-attorney and co-counsel, he has litigated against numerous national corporations involved in the manufacture and sale of dangerous products and equipment. He involves himself with every aspect of the litigation process, from client intake to discovery, to motion practice through trial verdict, keeping his clients' needs and rights foremost in his priorities.
In 2013, Daniel obtained a $190 million verdict on behalf of two tradesmen who developed mesothelioma decades after their occupational exposure to asbestos. The verdict was the largest consolidated asbestos verdict in New York history. In addition, the $60 million the two cancer patients received ranked among the largest individual damages awarded in a New York asbestos case. In 2014 and 2015, Daniel had unprecedented successes at trial in Delaware, New York City and Upstate New York. He obtained excellent settlements for clients before and during trial and won a jury verdict in a very contentious case in Syracuse, New York. In 2018, Daniel and fellow shareholder Jim Kramer secured a $60 million verdict in New York City against boiler manufacturers A.O Smith, Burnham, LLC, and Peerless Industries, Inc. This historic verdict, secured on behalf of a former laborer, marks one of the highest verdicts for an individual with mesothelioma ever received in New York. Later that year, Daniel and Jim secured a $40.1 million verdict against Goodyear Tire & Rubber Co. on behalf of a United States war veteran and former naval boiler tender suffering from pleural mesothelioma. This verdict is considered one of the largest compensatory verdicts in New York State.
Daniel is a recognized member of the renowned National Trial Lawyers "Top 40 under 40" for 2014 and 2015. Also in 2014 and 2015, the National Academy of Personal Injury Attorneys named him a winner of its "Top Ten Under 40" award and is a member of the American Bar Association and the New York Bar Association.
Jim Kramer
Attorney Jim Kramer is a shareholder at Simmons Hanly Conroy. He joined the firm in 2017 an accomplished trial attorney, having secured more than $35 million in verdicts for his clients. Jim focuses his practice on complex toxic tort litigation with a specialization in mesothelioma- and asbestos-related cases. His responsibilities include managing cases from inception through trial.
Jim knew from a young age that he wanted to be an attorney and devote his life to fighting on behalf of those who had been wronged by others.
"I have always been attracted to professions that allow people to help others in need," he said. "Being a trial attorney allows me to do that. I truly consider myself a zealous advocate, one who genuinely enjoys fighting for those need a voice in their most difficult times."
Jim brings this passion to every case he tries. One of the most important things to him in an attorney-client relationship is the personal connection forged between the two.
"I pride myself on my ability to form strong connections with my clients," he said. "I understand that being involved in a legal case is not ideal, especially at such a rough time in their lives. It's important to me that clients know that I am there for them at any time on any day. In my opinion, being an effective advocate doesn't end with merely hearing about the facts of a client's case. Being able to relate and connect with human beings who need their stories to be told is the most fundamental part of our profession. Even when my representation ends, I find that the bond I form with clients continues."
Jim's devotion to his clients is mirrored by the attention he gives to the details of each case.
"I always view every case from the perspective of a possible trial – what facts need to be brought out, where exposures might have occurred, and what legal outcomes we can anticipate and prepare for right from the start," he said. "I genuinely enjoy the research and preparation that goes into making sure that a legal argument or trial will go as well as it can."
Show Sponsors:
Legal Technology Services - LTSatlanta.com
Digital Law Marketing - DigitalLawMarketing.com
Case Pacer - CasePacer.com
Harris, Lowry, and Manton - hlmlawfirm.com
Free Resources:
Stages Of A Jury Trial - Part 1