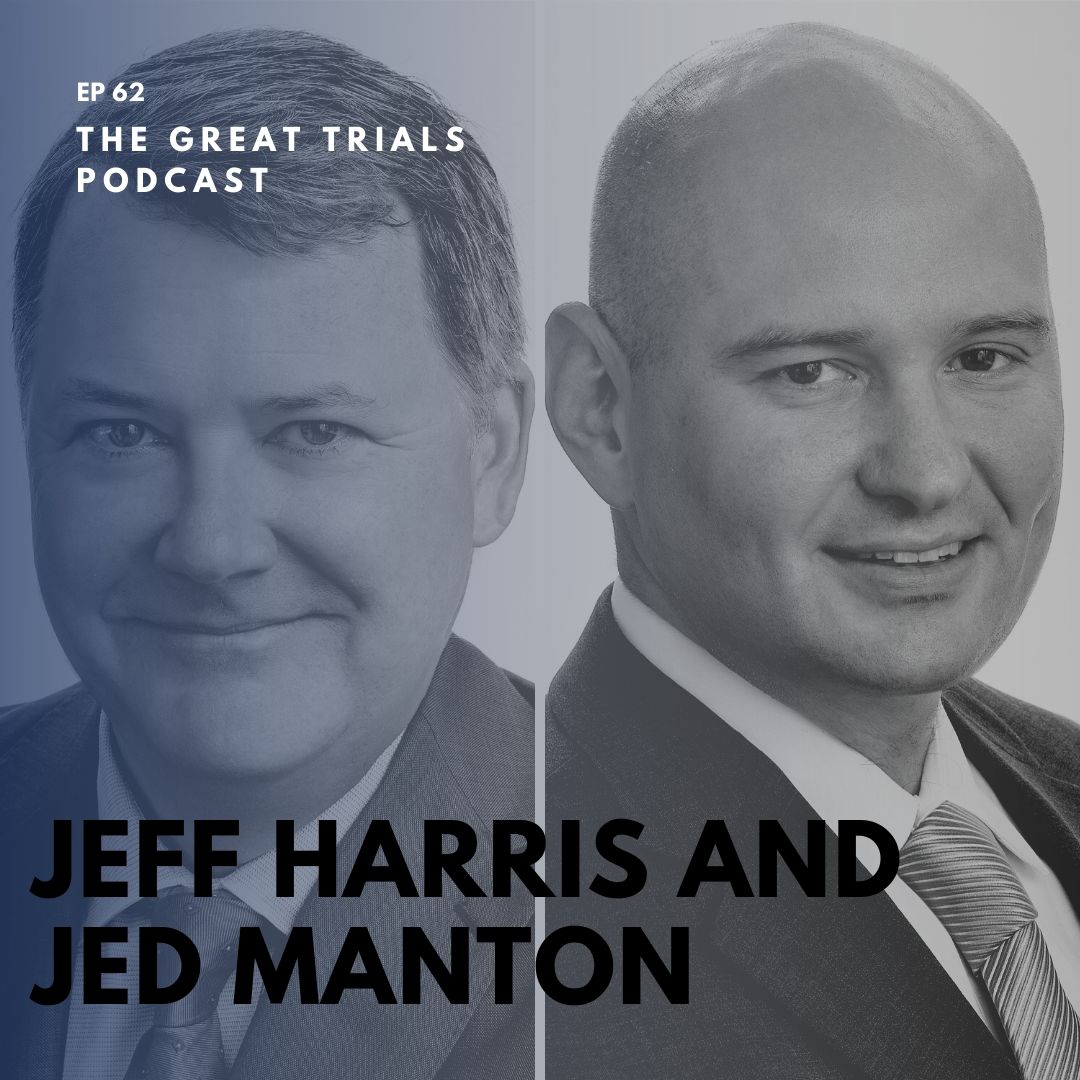 This week, your hosts Steve Lowry and Yvonne Godfrey interview Jeff Harris and Jed Manton of Harris, Lowry, and Manton LLP (www.hlmlawfirm.com).
Remember to rate and review GTP in iTunes: Click Here To Rate and Review
Case Details:
Harris Lowry Manton LLP partners Jeff Harris and Jed Manton share how they joined forces with Great Trials Podcast host Steve Lowry to secure justice in a landmark auto product liability case, which initiated a federal investigation by the National Highway Traffic Safety Administration. On November 1, 2005, Jessica Mundy's Ford Explorer suddenly shifted from park to reverse and started rolling backward. Jessica was struck by the driver's side door and was run over by the vehicle, rendering her a paraplegic. Jeff, Steve and Jed were able to demonstrate that Ford Motor Company transmissions suffered from a defect known as false park and that the company had known about it for decades. A DeKalb County, Georgia jury returned a verdict of $40 million for Jessica and her husband, Ken. 
Click Here to Read/Download the Complete Trial Documents
Guest Bios:
Jeff Harris
One of the nation's top trial attorneys, Jeff Harris is an award-winning litigator who handles high-profile, complex cases across a wide variety of practice areas. He excels at securing justice for clients who have been seriously injured or killed, holding responsible parties accountable for their actions as well as their negligence.
Over the course of his career, Jeff has secured hundreds of millions in jury verdicts and settlements for his clients and has helped make a variety of products, vehicles and industries safer for everyone. His cases have been featured in The New York Times, Atlanta Journal-Constitution, Washington Post, Los Angeles Times, USA Today, 20/20, CBS Evening News and many other national media outlets.
Jeff has obtained numerous record-setting verdicts and settlements on behalf of his clients and has been repeatedly included on the annual survey of top jury verdicts in the United States, compiled by the National Law Journal. He has been inducted to the Georgia Verdicts Hall of Fame and honored on the Georgia Super Lawyers Top 100 list, the National Trial Lawyers Top 100 list and the National Association of Distinguished Counsel's Top One Percent list.
Jeff has earned a reputation as a strategic, aggressive litigator who takes on major corporations and wins cases on behalf of his clients. Jeff has successfully litigated cases involving product defects, business disputes, wrongful death, catastrophic injury, bad faith, aviation accidents, medical negligence and industrial accidents. His specialty is trying cases to a jury. He is routinely brought into complex cases at the request of other attorneys to handle the trial of those disputes.
Jeff excels at product liability cases and has successfully sued virtually all of the major automakers for manufacturing defective vehicles. He represented a client who was paralyzed due to an injury caused by her Ford Explorer, securing a $40 million jury verdict while demonstrating that the company knew for decades that its transmission suffered from a "false park" defect. He also secured a $47.7 million jury verdict in a case involving a 6-year-old girl who was paralyzed due to a defect in the design of the Lincoln LS sedan and obtained $16.52 million in damages against Michelin in a high-profile product liability and wrongful death case, demonstrating that tread separation on a defective tire caused his client's death.
In addition, this talented litigator has had major wins in business tort cases. He took on the City of Atlanta and Clear Channel, winning a $17.5 million federal judgment arising from illegal bid awarding practices related to advertising contracts at Hartsfield-Jackson Atlanta International Airport.
JED D. MANTON
Jed Manton is committed to representing individuals and businesses that have been harmed by the actions of others. With a solid track record, Jed has helped numerous clients who have been seriously injured or who have lost a loved one obtain justice, while holding the wrongdoer accountable.
Many injuries occur because of a single individual's carelessness. However, Jed also recognizes that oftentimes tragedy strikes as a result of a series of missteps by multiple people. For example, the poor design of a road or the defective design of a particular automobile often plays a significant role in an automobile wreck. In three recent cases, Jed helped secure over $8 million for families where the police initially determined that HLM's client was at fault for the collision. After the firm's thorough investigation, the true cause for each wreck was determined to be a poorly designed road.
Jed has also helped families secure millions of dollars of compensation related to defective automobiles. Whether it is a defective tire, a poor braking system, an overworked truck driver or the improper location of a guardrail, Jed always digs deep into the underlying facts of each case to ensure that all responsible parties are identified and held accountable for their actions.
While the cornerstone of the justice system is making sure an injured client is fairly compensated for his or her past and future injuries, Jed takes particular satisfaction in knowing that HLM's work has resulted in roads being made safer, cars being designed differently and facilities being investigated by law enforcement to prevent needless injuries to others.
Show Sponsors:
Legal Technology Services - LTSatlanta.com
Digital Law Marketing - DigitalLawMarketing.com
Case Pacer - CasePacer.com
Harris, Lowry, and Manton - hlmlawfirm.com
Free Resources:
Stages Of A Jury Trial - Part 1