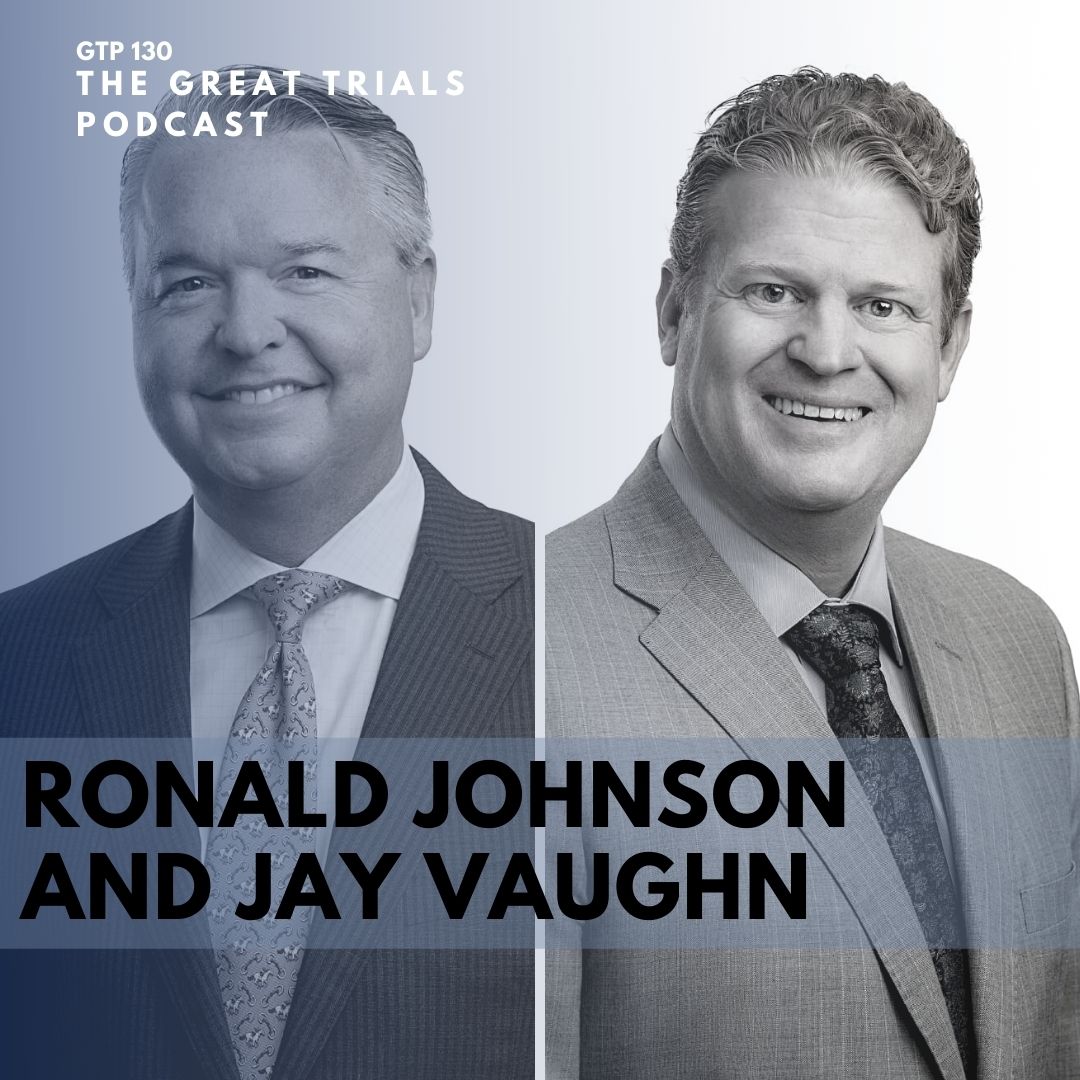 This week, your hosts Steve Lowry and Yvonne Godfrey interview Ronald Johnson and Jay Vaughn of Hendy Johnson Vaughn Emery (https://justicestartshere.com/).
Remember to rate and review GTP in iTunes: Click Here To Rate and Review
New! Watch the video recording: https://youtu.be/vJAe3s1SkPo
Episode Details:
Kentucky trial lawyers Ronald Johnson and Jay Vaughn of Hendy Johnson Vaughn Emery explain how they held an asphalt paving company responsible for causing a car crash that killed Amy Skiba. On the morning of January 9, 2019, Amy was driving her 12-year-old twins to school on a two-lane road when a 2013 Chevrolet truck's front tire went off the side of the road. When the truck returned to the roadway, it hit Amy's Honda Accord, and she died on impact. In this episode, learn how Ronald Johnson and Jay Vaughn explained to the jury that Amy's death was not the fault of either driver, instead demonstrating that Eaton Asphalt Paving Co., Inc. was ultimately responsible due to the fact that the company incorrectly re-paved the road two months prior to the accident and created hazardous conditions by removing safety wedges and rumble strips. In spite of Eaton Asphalt Paving Co., Inc.'s attempts to assert they had the permission of the Kentucky Transportation Cabinet to not mill the road and to cast blame on the driver of the Chevrolet truck, the Boone County, Kentucky jury found in favor of the plaintiff. On July 12, 2021, the jury awarded Amy's surviving children $24 million in damages as well as $50 million in punitive damages against the defendant.
Click Here to Read/Download the Complete Trial Documents
Guest Bios:
Ronald Johnson
Ronald Johnson is a veteran trial lawyer who has spent his career representing families and persons who have been injured or killed by defective drugs and medical devices, chemicals, dangerous conditions on a property, semi-truck collisions, automobile wrecks, medical malpractice, and other product liability claims.
Ron's experience and success in this field have been recognized by his peers and by federal courts across the country. Ron is a former president of the Kentucky Justice Association and has been designated as "AV" rated (pre-eminent) by the peer-reviewed publication Martindale, as well as designated a "Super Lawyer" by his fellow attorneys. Ron has also been appointed to numerous leadership positions in nationwide litigation by federal judges. In fact, Ron is the only lawyer currently practicing in Kentucky who has been appointed as lead or co-lead counsel of multiple Multi-District Litigations (MDL's) in Federal Courts. Ron has tried numerous complex cases, including a medical device case that resulted in a verdict over 7 million dollars. He has also negotiated settlements up to 230 million dollars.
Jay Vaughn
Jay Vaughn is one of the first attorneys to be Board Certified in Truck Accident Law by the National Board of Trial Advocacy.
Jay was born in Louisville, Kentucky. He received his undergraduate degree from Murray State University in Murray, Kentucky in 1999. Jay graduated from Salmon P. Chase College of Law at Northern Kentucky University in 2002. He is licensed to practice in both Kentucky and Ohio.
Jay has received Martindale-Hubbell's esteemed "AV" rating, which recognizes lawyers with the highest ethical standards and professional ability. Since 2013, he has been named to the Kentucky Super Lawyers, which recognizes no more than 5% of attorneys in Kentucky. Jay has tried numerous cases ranging from automobile collision cases to multi-week nursing home neglect cases. He is asked to speak both locally and nationally to other lawyers on a variety of legal topics as he is very active in Kentucky Justice Association and American Association for Justice, serving on the Board for both trial organizations.
Jay focuses his practice on personal injury, car wreck, trucking crash, traumatic brain injury, and wrongful death cases. He understands that his clients have had their lives turned upside down due to the fault of someone else which is the reason for him working tirelessly to achieve justice for his clients, help make up for what was taken from them and giving them hope for the future.
Show Sponsors:
Legal Technology Services - LegalTechService.com
Digital Law Marketing - DigitalLawMarketing.com
Harris Lowry Manton LLP - hlmlawfirm.com
Free Resources:
Stages Of A Jury Trial - Part 1