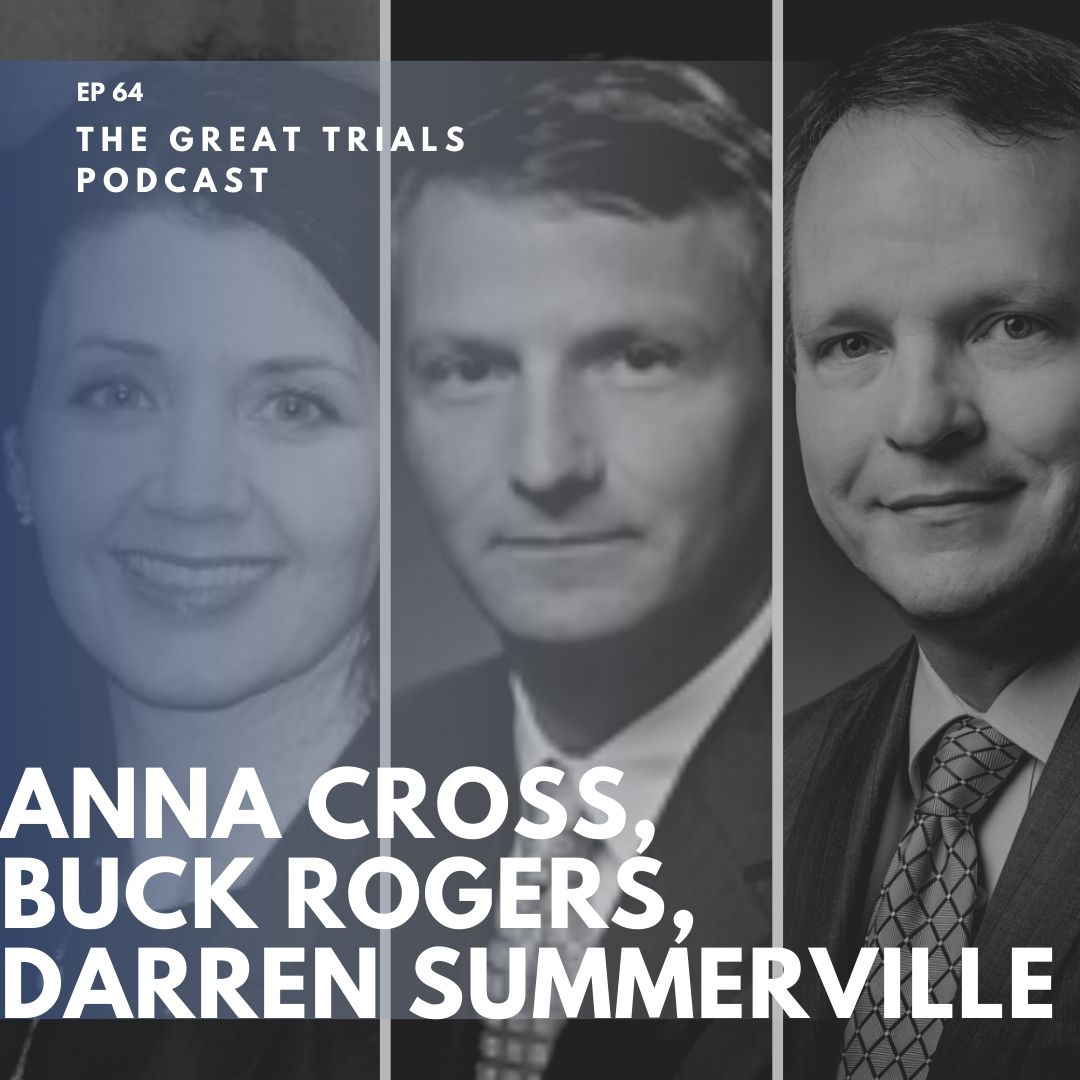 This week, your hosts Steve Lowry and Yvonne Godfrey interview Anna Green Cross and Darren Summerville of The Summerville Firm, LLC (http://www.summervillefirm.com/) and Brian D. "Buck" Rogers of Rogers & Fite, LLC (https://www.rogersfite.com/)
Remember to rate and review GTP in iTunes: Click Here To Rate and Review
Case Details:
Anna Green Cross and Darren Summerville of The Summerville Firm, LLC, and Brian D. "Buck" Rogers of Rogers & Fite, LLC share how they secured justice for the Johnson family after an intoxicated 16-year-old driver recklessly slammed his Dodge Ram 1500 into the back of their minivan at 78 mph. Inside the minivan were David and Susannah Johnson and their four children -- Brooke, 10, Kathryn, 8, Hannah, 6 and Owen, 3 -- who were enjoying a family vacation in Blue Ridge, Georgia. Tragically, Hannah was pronounced dead at the scene, and Owen sustained massive injuries that caused him to be a ventilator-dependent quadriplegic. Kathryn's pelvis was shattered on impact, causing her to have to learn to walk again. Brooke had several broken bones and her mother Susannah sustained multiple broken ribs. After two hours of deliberation, a Fannin County, Georgia jury returned a verdict of $128,813,522, including $40 million for Hannah's wrongful death, $30 million for Owen's intangible damages and another $40 million for his future medical expenses. This was the fifth-largest wrongful death jury verdict in the United States in 2018.
Click Here to Read/Download the Complete Trial Documents
Guest Bio:
Anna Cross
Anna has been on the winning side in complex litigation in the trial and appellate courts of Georgia for decades.  In her 20 years as a prosecutor in Metro Atlanta, Anna represented the State in high-profile homicide prosecutions such as State v. Hemy Neuman (2010 Dunwoody Daycare murder), State v. James Vincent Sullivan (1987 contract killing of Lita McClinton Sullivan), and State v. Jamil Abdullah Al-Amin, Aka H. Rap Brown (2000 murder of Fulton County Sheriff's Deputy) as part of the trial team and as the lead appellate attorney.  
Since making the switch to civil law in 2018 and joining The Summerville Firm, Anna has used her skills to help secure a $128 million jury verdict in the wrongful death and personal injury case Johnson v. Lee (Fannin County, GA).  She has successfully briefed complex pretrial evidentiary issues, allowing her clients to secure several multi-million dollar settlements.  
Anna has tried over 80 cases to verdict, briefed hundreds of cases in the Georgia Appellate Courts, and argued in the Georgia Supreme Court more than 60 times.  
After completing her undergraduate degree in Philosophy with a minor in Japanese at the University of Notre Dame, Anna spent a year as a foster parent running a household for HIV positive infants and children in Houston, TX. She then graduated from Emory University School of Law and lives in Decatur with her husband and children.
Darren Summerville
Darren Summerville isn't afraid to go where there is no path. He excelled in debate in high school and college, and graduated at the top of his law school class while winning every major writing award available in law school. He started his career in a top-notch litigation boutique—cutting his teeth on cases of racketeering, breach of fiduciary duty, fraud, and punitive damages—in trial courts and on appeal.
Then he took a different path—to a plaintiffs' trial firm, often working with other attorneys on their appeals and sophisticated tort cases, using his commercial litigation skills to expose fraud and other abuses. 
Now he has charted his own distinct way of practice. Darren litigates cases on behalf of plaintiffs and defendants, in the appellate courts and at trial—anywhere there's a dispute that needs a cutting-edge approach, with the high degree of professionalism and skill necessary to pull it off.
Buck Rogers
A native of Atlanta, Buck earned a Bachelor of Arts from the University of Georgia in 1990 and a J.D. from Vanderbilt University School of Law in 1994. Buck is a P.O.S.T. (Peace Officer's Safety Training) Certified Guest Lecturer, Commercial Motor Vehicle Collisions and Law and holds his own CDL License.
Buck is the 55th president of the State Bar of Georgia and has been on the Board of Governors for the State Bar of Georgia since 2008. He works primarily as a civil attorney representing victims of catastrophic claims.
Buck was selected as one of the "14 Under 40" in the Fulton County Daily Report in 2006 and as one of the "Top 100 lawyers" in Georgia by Atlanta Magazine.  He was president of the Georgia Trial Lawyers Association from 2013 to 2014 and served on the Atlanta Bar Association's Continuing Education Committee.
Buck is a graduate of the National College of Advocacy, the Ultimate Trial College in Washington, D.C., and the Trial Lawyers College. He is a Master in the Lamar Inn of Court.
Buck has devoted himself to community service. His philanthropic work includes serving on the Board of Directors for Roadsafe America (trucking safety advocacy group), Chair of the Board of Directors of the Civil Justice PAC Inc., State Council of Mothers against Drunk Driving (MADD) for which he is the Chair of Leadership, and the Shepherd Spinal and Brain Injury Center, where he is a Trustee and serves on the Auxiliary Board and the Advisory Board.
Show Sponsors:
Legal Technology Services - LTSatlanta.com
Digital Law Marketing - DigitalLawMarketing.com
Case Pacer - CasePacer.com
Harris, Lowry, and Manton - hlmlawfirm.com
Free Resources:
Stages Of A Jury Trial - Part 1