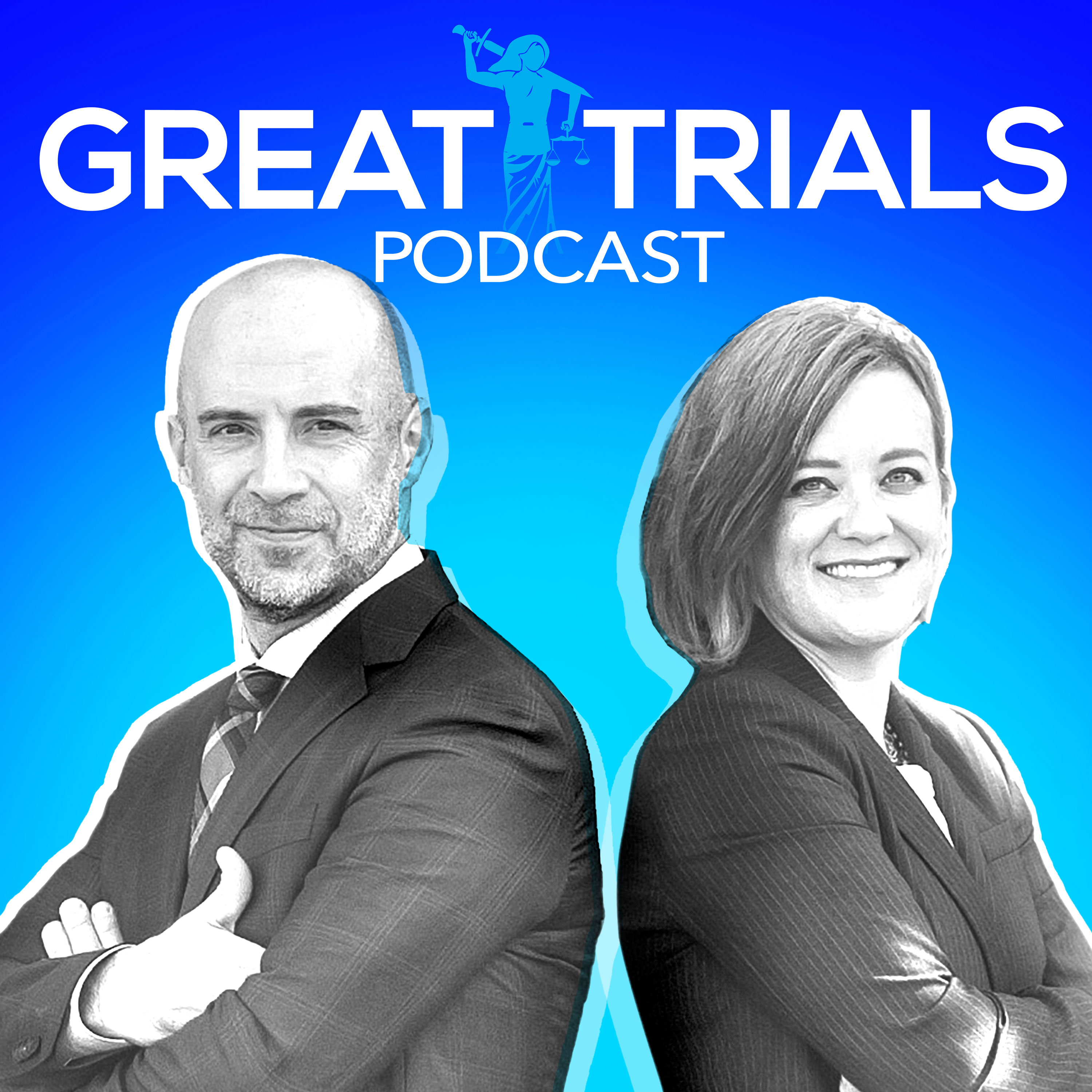 The Great Trials Podcast offers a series of laid-back, casual conversations with leading trial lawyers, taking listeners "behind the scenes" of America's greatest trials. Hosted by acclaimed trial lawyers Steve Lowry and Yvonne Godfrey, each podcast episode focuses on one important trial and includes in-depth, insightful interviews with the attorneys who successfully argued the case in front of a judge and jury.
Episodes
Tuesday Feb 01, 2022
This week, your hosts Steve Lowry and Yvonne Godfrey interview Derrick Alexander Pope of Hidden Legal Figures (https://www.hiddenlegalfigures.com/).
Remember to rate and review GTP in iTunes: Click Here To Rate and Review
Episode Details:
Hidden Legal Figures Podcast host Derrick Alexander Pope returns to discuss what proved to be Civil Rights leader Martin Luther King, Jr.'s last legal stand and how its historical significance continues to impact protests to this day. In February 1968, more than 1,000 African-American sanitation workers in Memphis, Tennessee, went on strike after two black sanitation workers were killed on the job. A local pastor invited King to help the protestors nonviolently strike for job safety, better wages, benefits and union recognition. On March 28, 1968, King and other protestors peacefully marched through Memphis until violence broke out and looting took place, resulting in numerous injuries, arrests and the calling of the National Guard. Unhappy with the unwanted attention his presence and participation brought, the City of Memphis sued King and his Southern Christian Leadership Conference associates, including Hosea Williams, James Bevel, James Orange, Ralph Abernathy and Bernard Lee. On April 3, 1968, U.S. District Court Judge Bailey Brown issued a temporary restraining order against King as part of the city's attempts to thwart the next planned march. On today's special collaborative episode with the Hidden Legal Figures Podcast, Derrick Alexander Pope shares how King's lawyers Mike Cody and Lucius Burch sought and secured a compromise with the City of Memphis, which resulted in lifting the restraining order and allowing the march to go on with safety restrictions in place. The night before the compromise was formalized, King was tragically assassinated. 
Click Here to Read/Download the Complete Trial Documents
Guest Bio:
Derrick Alexander Pope:
Derrick Alexander Pope, who describes himself as a composer and conductor of ideas, is President and founding Director of The Arc of Justice Institute. In this role, he has responsibility for all aspects of its standing initiatives and programs and host of its podcast, Hidden Legal Figures.
Before The Arc, Mr. Pope enjoyed a distinguished career in the public, private, and academic sectors. He has provided counsel to the legislative and executive branches of government at the federal, state, and county level, having most recently served as Chief of Staff in the Office of the Chairman of the Fulton County Board of Commissioners. He is a former Assistant Legislative Counsel to the Georgia General Assembly and former Legislative and General Counsel to the Medical Association of Georgia. During the Obama administration, Mr. Pope was a member of the White House Data Driven Justice Initiative and the My Brother's Keeper Taskforce in 2015 and 2016. In private practice, he has helped protect the inheritance rights of more than 500 families throughout Georgia. Mr. Pope is a former adjunct professor of law at the Georgia State University College of Law where he taught Probate Practice and Procedure.
Mr. Pope has several published works to his credit. He is the author of By the Content of Our Character: A Declaration of  Independence for Colored Folks, Negroes, Black People, and African Americans and Thy Will Be Done: An African American Guide to Estate Planning and the Howard Law Journal article A Constitutional Window to Interpretive Reason: Or in Other Words...The Ninth Amendment. In 2012 teaming with this daughter he released a spoken word CD - The Race Track.
An Atlanta native, Mr. Pope is a graduate of Morris Brown College and the Loyola University School of Law in New Orleans, Louisiana, earning top honors in the Loyola Law Clinic. He is a member of the State Bar of Georgia where serves on three standing committees (Vice-Chair, Communications/Cornerstones of Freedom Program; Advisory Committee on Legislation, and the Editorial Board of the Georgia Bar Journal, and Past Co-Chair of the Committee on Inclusion in the Profession), the Phi Alpha Delta Law Fraternity, the United States Supreme Court Historical Society, and the Alpha Phi Alpha Fraternity, Inc.
Show Sponsors:
Legal Technology Services - LegalTechService.com
Digital Law Marketing - DigitalLawMarketing.com
Harris Lowry Manton LLP - hlmlawfirm.com
Free Resources:
Stages Of A Jury Trial - Part 1