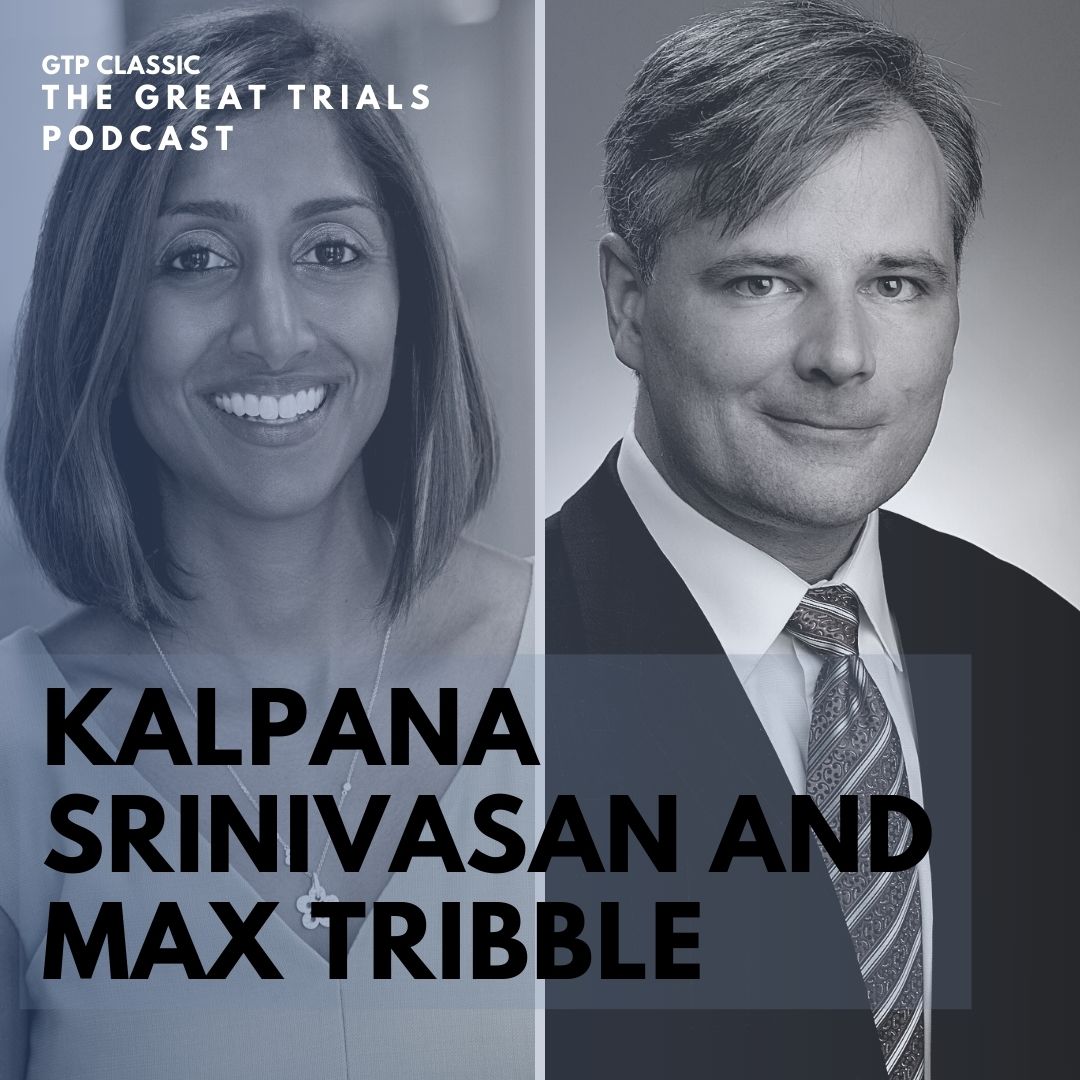 This week, we replay a classic GTP episode where your hosts Steve Lowry and Yvonne Godfrey interview Kalpana Srinivasan and Max Tribble of Kalpana Srinivasan and Max Tribble of Susman Godfrey LLP (https://www.susmangodfrey.com/)
Remember to rate and review GTP on iTunes: Click Here To Rate and Review
Case Details:
High-stakes trial lawyers Kalpana Srinivasan and Max Tribble of Susman Godfrey LLP explain how they secured the largest intellectual property verdict in the United States in 2018 in a countersuit against Title Source, Inc., a company providing valuation services to Quicken Loans. Originally, Title Source, Inc. sued Kalpana and Tribble's client HouseCanary, Inc. for breach of contract. HouseCanary filed crossclaims regarding Title Source's allegedly improper use of the data and discovered, via a PowerPoint presentation, that Title Source was violating the rules of its nondisclosure agreement and stealing HouseCanary's trade secrets to reverse-engineer a competing automated valuation model. After seven weeks of trial, a Bexar County, Texas jury returned a verdict of $706.2 million, including $201.6 million for the value of the trade secrets, and cleared HouseCanary of any allegations of wrongdoing.
Click Here to Read/Download the Complete Trial Documents
Guest Bios:
Kalpana Srinivasan
Ms. Srinivasan tries high-stakes cases for plaintiffs and defendants in courtrooms across the country.  A partner in the Los Angeles office and a member of the firm's Executive Committee, she has secured significant victories for her clients in antitrust, patent, trade secret, copyright, class action, and other disputes.
Ms. Srinivasan won a $706.2 million jury verdict for client HouseCanary in a misappropriation of a trade secret, fraud, and breach of contract case. As co-lead counsel, Ms. Srinivasan played a crucial role in this landmark win. Read more on the win here or see the case featured in Lawdragon's feature story, "Revenge of the Hatchlings: How Susman Godfrey Won Almost a Billion Dollars for HouseCanary" or in Law360's "How They Won It" series.
Ms. Srinivasan recently obtained court approval for a class action settlement valued at over $100 million with music streaming service, Spotify. The deal resolved claims of copyright infringement. She currently serves as Court-appointed co-lead counsel for a certified class of hundreds of millions of consumers impacted by Qualcomm's anticompetitive conduct in the sale of chipsets used in mobile devices and its patent licensing practices.
Ms. Srinivasan's practice includes pursuing and defending patent infringement actions, including cases involving standard-essential telecommunications patents; gaming and graphics patents; and cybersecurity software.
Max Tribble
Max Tribble, serving as lead counsel, secured a jury verdict of $706.2 million for client, HouseCanary in a misappropriation of trade secret, and breach of contract case related to HouseCanary's innovative technology for valuation, appraisal, and real estate analytics. At the conclusion of the seven-week trial, a 12-person jury found unanimously in favor of HouseCanary, awarding HouseCanary $706.2 million against Title Source, an affiliate of Quicken Loans, on counterclaims in this high-stakes legal battle.  
The award was finalized in October 2018 and in 2019, a judge confirmed the jury award in full and allowed a judgment of more than $740 million (including prejudgment interest and attorney fees) to stand.  This landmark win has been featured as a top story of the week by Texas Lawyer and covered by The Wall Street Journal, Bloomberg, Dallas News, and Law360. It was also featured on Law360's "How They Won It" series and was highlighted in Susman Godfrey's recent "Intellectual Property Practice Group of the Year" recognition by Law360.  
Lawdragon profiled the win in their feature story, "Revenge of the Hatchlings: How Susman Godfrey Won Almost a Billion Dollars for HouseCanary" and National Law Journal named Tribble a Winning Litigator (ALM) for this win. The verdict also appeared at number one on Texas Lawyer's 2019 Intellectual Property Hall of Fame. Read more about the case here.
Show Sponsors:
Legal Technology Services - LegalTechService.com
Digital Law Marketing - DigitalLawMarketing.com
Harris Lowry Manton LLP - hlmlawfirm.com
Free Resources:
Stages Of A Jury Trial - Part 1