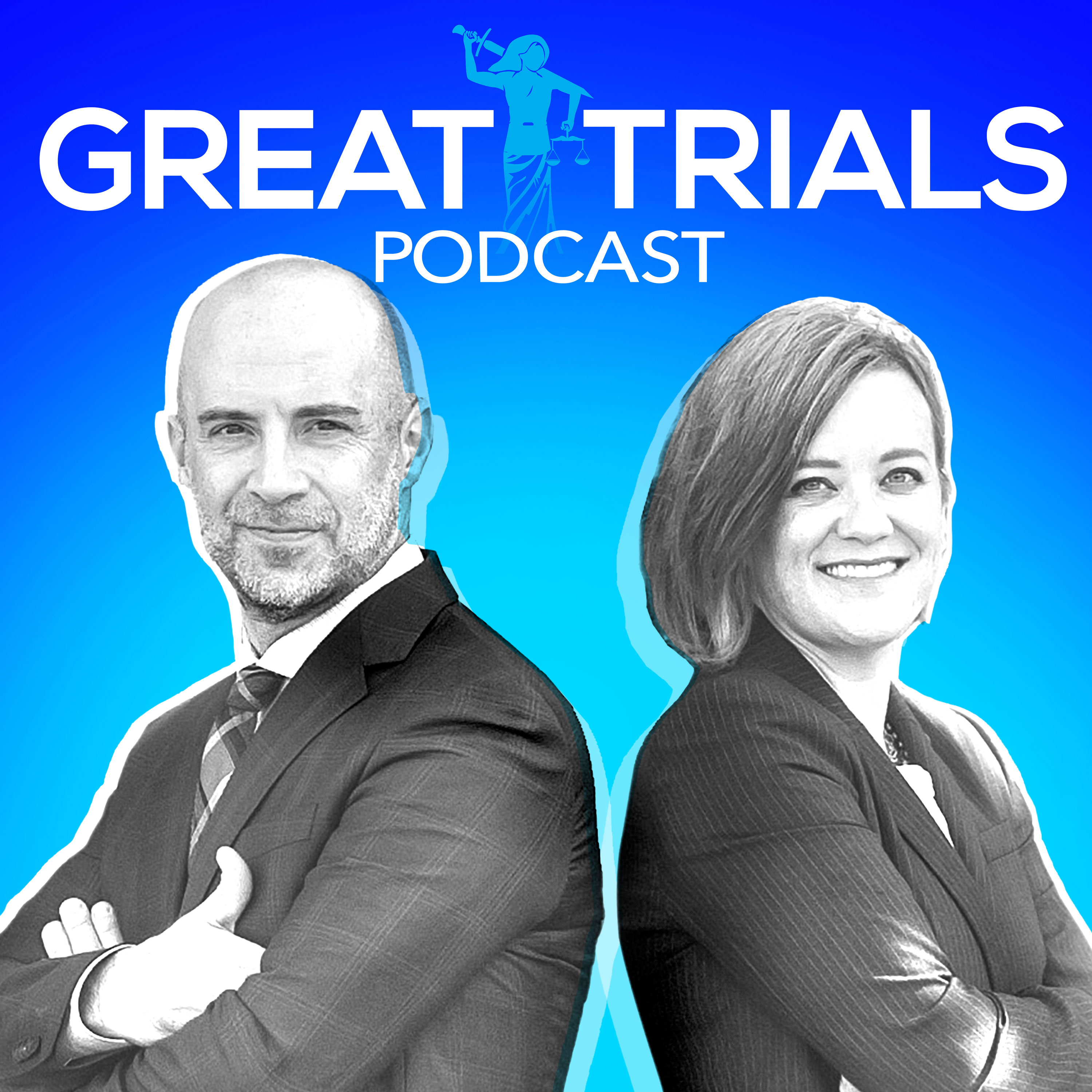 The Great Trials Podcast offers a series of laid-back, casual conversations with leading trial lawyers, taking listeners "behind the scenes" of America's greatest trials. Hosted by acclaimed trial lawyers Steve Lowry and Yvonne Godfrey, each podcast episode focuses on one important trial and includes in-depth, insightful interviews with the attorneys who successfully argued the case in front of a judge and jury.
Episodes
Tuesday Dec 22, 2020
This week, your hosts Steve Lowry and Yvonne Godfrey interview Armen Akaragian and Garo Mardirossian of Mardirossian & Associates, Inc. (https://www.garolaw.com/)
Remember to rate and review GTP in iTunes: Click Here To Rate and Review
Episode Details:
Los Angeles trial lawyers Armen Akaragian and Garo Mardirossian of Mardirossian & Associates, Inc. explain how they represented the family of Nonki Uno, a 66-year-old restaurant owner who was killed after the accelerator pedal in her 2006 Toyota Camry got stuck following a crash caused by another driver who ran a stop sign. In August 2009, 86-year-old Olga Bello broadsided Nonki Uno's car, sending it spinning and uncontrollably accelerating, crossing the center median curb and striking multiple telephone poles and trees. Nonki was found dead at the scene with her foot broken and mangled under the brake pedal and her emergency brake activated. Originally tried in 2013, this was a bellwether case for nearly 300 unintended acceleration cases involving Toyota vehicles. Toyota failed to include a Brake Override Safety System (B.O.S.S.) in the American model of the Toyota Camry until 2007 and failed to warn consumers about the fact that solid accelerator pedals can get stuck and cause sudden acceleration. Despite Armen and Garo's argument that Toyota and Olga Bello were to blame for Nonki's death, the Los Angeles jury ultimately found Olga 100% responsible and awarded $10,000,000 in noneconomic damages to Nonki's husband and son. 
Click Here to Read/Download the Complete Trial Documents
Guest Bios:
Armen Akaragian
Armen Akaragian is an attorney with the firm of Mardirossian & Associates, in Los Angeles, California. He has been with the firm since 1999.
Admitted to practice in 2006, Armen has arbitrated, tried, and settled several cases that have resulted in multi-million dollar verdicts and settlements. Some of the largest entities Armen has represented the firm's clients against include Ford Motor Company, General Motors, Toyota Motor Corporation, Marriott International, Inc., Kiewit Construction, Continental Tire, Land Rover, State of California, Chrysler Motors, Emerson Electric, and Honeywell International.
In 2009, he was nominated for the coveted Consumer Trial Attorney of the Year Award by the Consumer Attorneys of California, a statewide organization, following his involvement in the case of Pannu vs. Land Rover. This complex product liability case, which was litigated for more than seven years, tried over eight weeks and underwent a two-year appellate process, ultimately resulted in a fully affirmed judgment in excess of $25,000,000.00. Most notably, the published Court of Appeal opinion set precedent in the State of California excluding from evidence crucial testing that automobile manufacturers have relied upon in defending complex product liability cases for decades.
In 2011, Armen again was recognized for his accomplishments by the Armenian Bar Association as one of the top 20 lawyers under 40. This was the first time this award had been given out by the Bar Association.
In 2013, Armen was one of the trial attorneys in the first bellwether case tried to verdict, Uno v. Toyota, in the about 300 coordinated cases against Toyota arising from unintended acceleration incidents. The trial lasted for more than three months and resulted in a jury verdict in the amount of $10,000,000.00 for the untimely death of a 66-year-old wife and mother. The case ultimately settled in 2015 at the Appellate Court steps. At that time, the judgment which also included costs and interest exceeded $13,000,000.00.
During the trial in Uno v. Toyota, the California Court of Appeal published its opinion in Purton v. Marriott International, Inc., 218 Cal. App. 4th 499 (2013), reversing a grant of summary judgment. The Court of Appeal agreed with Armen's position taken at the trial court level and eventually held that an employer could still be responsible for the acts of its employee who became intoxicated at a company party even if the employee arrived home safely from the party, then left his house and was subsequently involved in a crash. The case eventually started trial in May of 2015 in San Diego. After three weeks and just before plaintiffs rested, the case was resolved for a confidential sum.
Armen attended California State University, Northridge, where he earned, in 2002, a Bachelor of Science Degree in Business Administration. He then attended Southwestern University School of Law in Los Angeles, where he was consistently on the Dean's List, and completed his Juris Doctor degree in 2005. During his studies, he was also a Judicial Extern for Honorable Dikran Tevrizian, Judge with the United States District Court for the Central District of California.
Garo Mardirossian
Garo Mardirossian is the principal of Mardirossian &Associates, Inc., a five-lawyer firm in the Mardirossian Law Building located at 6311 Wilshire Boulevard in Los Angeles. Since starting his practice in 1981, Mr. Mardirossian has focused almost exclusively on representing individuals who have been catastrophically injured. Mr. Mardirossian has obtained over 100 seven- and eight-figure verdicts and settlements, including eight-figure verdicts in product liability, general negligence, and civil rights cases.
In April of 2019, Mr. Mardirossian obtained the largest settlement ever against the Los Angeles County Sheriff's Department in the amount of $42,200,000.00 in the case of Fong v. LA County Sheriff's Department, where a rogue Sheriff's Deputy lost control of his patrol car while responding to a call, Code 3, and hit the plaintiff who suffered a broken leg and a moderate TBI. Despite the crash, within six months, the plaintiff returned back to work without any limitations.
In an earlier case against the Los Angeles County Sheriff's Department, Dole v. LA County Sheriff's Department, members of the Dole family were beaten and arrested
at the Dole home while celebrating a bridal shower. Mr. Mardirossian obtained a defense verdict in the felony criminal case prosecuted against members of the Dole family and then obtained a jury award in the amount of $24,850,000.00 in the civil rights action -- the largest judgment in history against the Sheriff's Department at the time.
In Mendoza v. LA County Sheriff's Department, Mr. Mardirossian obtained a $14,350,000.00 settlement for the family of Frank Mendoza, a grandfather who was mistakenly shot and killed by Sheriff's Deputies as he was exiting his home.
More recently, in Valenzuela v. City of Anaheim, an excessive force case that resulted in the choking death of Vincent Valenzuela, Garo Mardirossian and Dale Galipo teamed up to obtain a federal court jury verdict of $13,200,000.00 for the family of an unarmed homeless father of two.
In the nationally followed Kelly Thomas v. Fullerton Police Department case, Mr. Mardirossian fought for justice for Kelly Thomas, a homeless man suffering from schizophrenia, who was tased and beaten to death by Fullerton Police officers following an encounter that was escalated by the officers. During jury selection, Mr. Mardirossian obtained a settlement of $4,900,000.00 on behalf of Kelly's father.
In Kunta Kinte v. Bart Simpson (real names), Mr. Mardirossian represented a South Central family that was beaten and arrested by officers of the LAPD. After obtaining an acquittal in the criminal case, Mr. Mardirossian settled the civil rights action case for $350,000.00.
In Zerby v. Long Beach Police Department, Mr. Mardirossian and Dale Galipo obtained a jury verdict of $6,500,000.00 after Long Beach Police officers shot and killed Douglas Zerby, who was sitting on the steps in front of a friend's house. The officers mistook the water nozzle he was holding for a weapon and opened fire.
In Amaya v. LA County Sheriff's Department, Mr. Mardirossian obtained a $3,050,000.00 jury verdict on behalf of the family of a man who was shot and killed in his home by Sheriff's Deputies who were executing an arrest warrant.
In Ponce v. City of Anaheim, Mr. Mardirossian obtained a $1,650,000.00 settlement for the children of Adalid Flores, who was shot and killed by Anaheim Police Department officers who believed his cell phone was a gun.
In 2000, Mr. Mardirossian won the prestigious CAALA Trial Lawyer of the Year award. In 2010, he was elected CAALA's president. He has been named by the Daily Journal as one of the top 100 Lawyers in California, and he has had numerous published decisions that have set an important precedent in California, including Purton v. Marriott International, Inc., 218 Cal. App. 4th 499 (2013); Pannu v. Land Rover, 191 Cal. App. 4th 1298 (2011); Mardirossian & Associates, Inc. v. Ersoff, 153 Cal. App. 4th 257 (2007); and Srithong v. Total Investment Co., 23 Cal. App. 4th 721 (1994).
Show Sponsors:
Legal Technology Services - LTSatlanta.com
Digital Law Marketing - DigitalLawMarketing.com
Harris, Lowry, and Manton - hlmlawfirm.com
Free Resources:
Stages Of A Jury Trial - Part 1