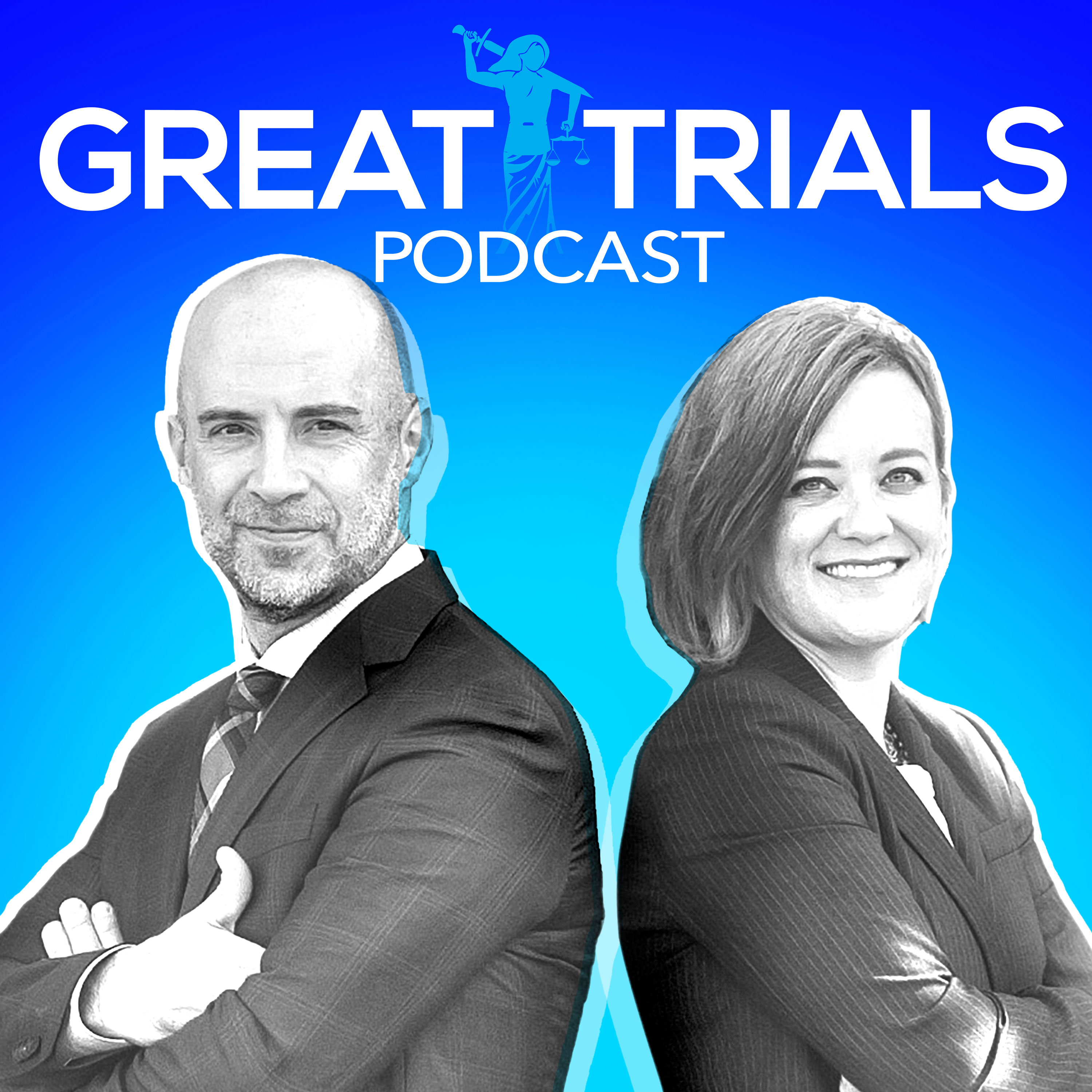 The Great Trials Podcast offers a series of laid-back, casual conversations with leading trial lawyers, taking listeners "behind the scenes" of America's greatest trials. Hosted by acclaimed trial lawyers Steve Lowry and Yvonne Godfrey, each podcast episode focuses on one important trial and includes in-depth, insightful interviews with the attorneys who successfully argued the case in front of a judge and jury.
Episodes
Tuesday Nov 29, 2022
This week we're replaying a classic episode where your hosts Steve Lowry and Yvonne Godfrey interview Dan Huff of Huff, Powell & Bailey, LLC (https://www.huffpowellbailey.com/).
Remember to rate and review GTP in iTunes: Click Here to Rate and Review
Episode Details:
Georgia defense attorney Dan Huff of Huff, Powell & Bailey, LLC, a firm specializing in the defense of medical negligence cases for physicians and hospitals, explains how he secured a unanimous verdict in favor of radiologist Dr. Joshi and the staff at Radiology Associates of DeKalb, who were faced with charges of medical malpractice and the wrongful death of 51-year-old podiatry patient Lisa Calhoun. In June 2014, Lisa went to her podiatrist with leg pain and was told she may be suffering from deep vein thrombosis (DVT), or blood clots in her legs. The podiatrist ordered an ultrasound, which was then interpreted by Dr. Joshi.  The ultrasound confirmed a DVT diagnosis, but there was a factual dispute as to whether the diagnosis was communicated by Dr. Joshi's office to the podiatrist.  A few days later, Lisa was admitted to the emergency room, complaining of severe chest pain and shortness of breath. While in the hospital, she claimed that she was unaware of the ultrasound results and died of cardiac arrest several hours later.  Disputing the claim that Dr. Joshi's office did not communicate the ultrasound results to the podiatrist, Dan walked the jury through the proper procedures associated with communicating radiology results and shared evidence of phone calls between Lisa and her podiatrist's office as well as between the radiology technologist and the podiatrist's office. This evidence convinced a DeKalb County, Georgia jury that Dr. Joshi and the staff at Radiology Associates of DeKalb neither violated the standard of care nor served as a proximate cause to Lisa's death, resulting in a defense verdict.
Guest Bio:
Dan Huff
Since 1991, Dan has specialized in the defense of high damages lawsuits, primarily medical malpractice lawsuits and claims. He has represented defendants in more than 110 jury trials. He has defended and successfully tried cases for every specialty of medicine and numerous hospitals throughout Georgia. Dan's trial record would be a proud career for any defense lawyer and remarkable because Dan has tried and won so many cases in so few years. In the past five years Dan has tried more than 30 medical malpractice cases in Georgia. Many of those cases have been against the best plaintiffs' attorneys in the state.
Because of Dan's trial record and reputation with plaintiffs' attorneys, he is able to obtain the best possible outcomes for physicians and hospitals whether the case is tried or resolved.
In addition to representing defendants, Dan is a regular contributor to legal and medical publications and seminars. Dan and his firm are proud to donate their time and resources to help several local charities and provide pro bono legal representation to indigent clients.
In 2018, Dan became a Fellow in the American College of Trial Lawyers. Founded in 1950, the College is composed of the best of the trial bar from the United States and Canada. Fellowship in the College is extended by invitation only and only after careful investigation, to those experienced trial lawyers of diverse backgrounds, who have mastered the art of advocacy and whose professional careers have been marked by the highest standards of ethical conduct, professionalism, civility and collegiality. Lawyers must have a minimum of fifteen years trial experience before they can be considered for Fellowship. Membership in the College cannot exceed one percent of the total lawyer population of any state or province. There are currently approximately 5,800 members in the United States.
Show Sponsors:
Legal Technology Services - LegalTechService.com
Digital Law Marketing - DigitalLawMarketing.com
Harris Lowry Manton LLP - hlmlawfirm.com
Free Resources:
Stages Of A Jury Trial - Part 1