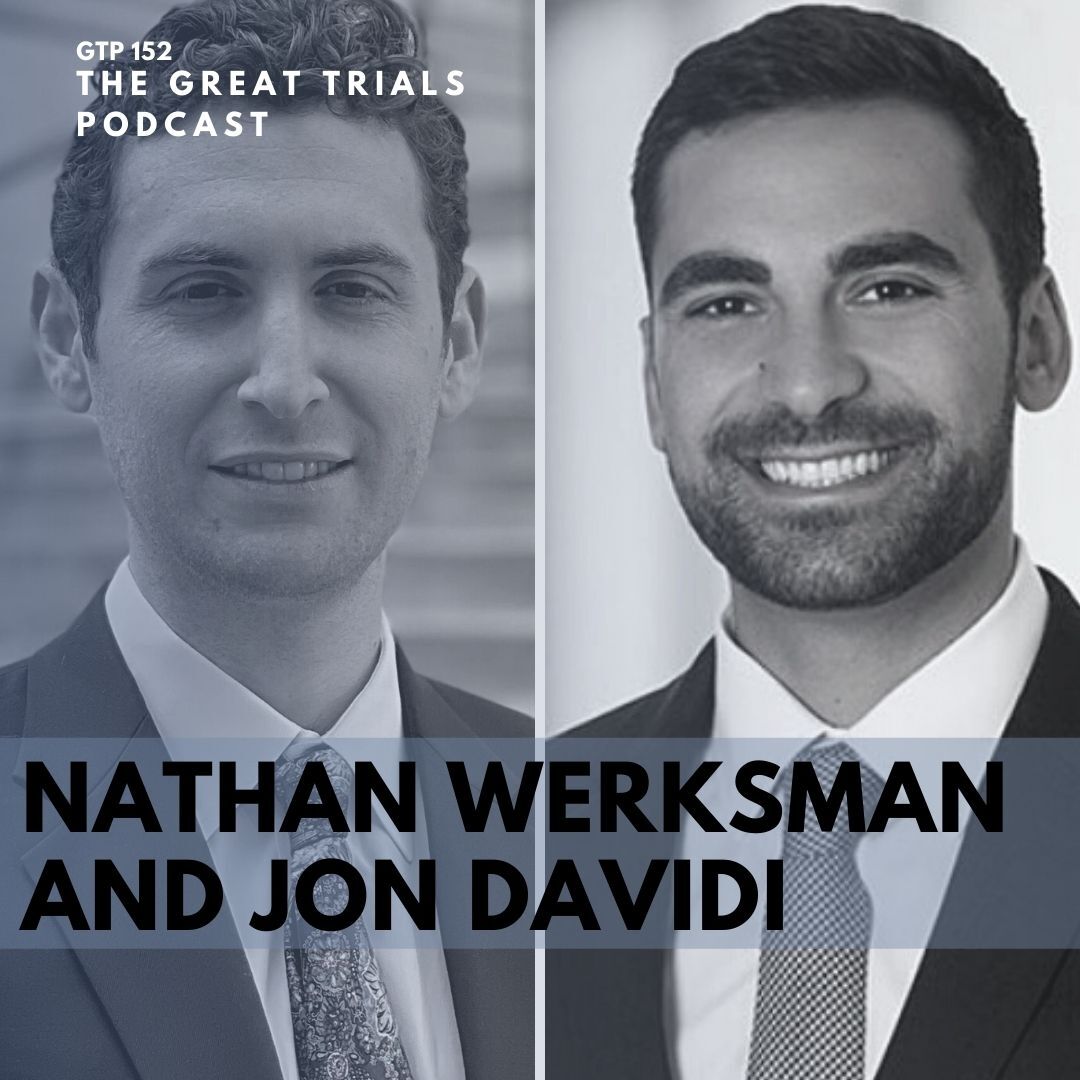 This week your hosts Steve Lowry and Yvonne Godfrey interview Nathan Werksman of Merson Law PLLC (https://mersonlaw.com/) and Jon Davidi at Panish|Shea|Boyle|Ravipudi LLP (https://www.psbr.law/)
Remember to rate and review GTP in iTunes: Click Here To Rate and Review
Episode Details:
Trial lawyers Nathan Werksman of Merson Law PLLC and Jon Davidi at Panish|Shea|Boyle|Ravipudi LLP discuss how they secured justice for a woman who was viciously attacked by a dog as well as the challenges of conducting a jury trial held at the height of the COVID-19 pandemic. On December 15, 2016, plaintiff Jennefer Jones took a walk around her neighborhood and attempted to pass neighbor Mathew Epstein, who was walking a 55-pound Rhodesian Ridgeback named Turkey on the sidewalk. Turkey lunged and attacked Jennefer, biting her right forearm, breaking the skin and dragging her to the ground, where she fell on her elbow. Jennefer was later diagnosed with two injuries: radial tunnel syndrome in her forearm and lateral epicondylitis in her elbow. Despite being put in a cast, injected with platelet-rich plasma and more than 80 physical therapy sessions, Jennefer continued to experience pain that greatly affected her ability to perform everyday tasks and to work as a golf instructor. The defense argued that Turkey didn't bite Jennefer but simply scratched her and asserted that any pain is from a pre-existing condition or an overuse injury related to her golf instruction career. Nathan Werksman and Jon Davidi called out the defense's tactic of referring to Jennefer's lateral epicondylitis by its more common name of "tennis elbow" to persuade the jury of the injury's true origin. In October 2020, an Orange County, California jury found in favor of Jennefer and awarded her $309,250 in damages. 
Click Here to Read/Download Trial Documents
Guest Bios:
Nathan Werksman
As a trial attorney at Merson Law PLLC, lawyer Nathan Werksman fights for the injured and wronged in complex personal injury, medical malpractice, products liability, sexual abuse, and mass tort litigation.
Prior to joining Merson Law, Mr. Nathan Werksman recovered hundreds of millions of dollars for his clients through both settlement and trial at the distinguished California personal injury firm Panish, Shea & Boyle LLP.
Prior to that, Mr. Werksman clerked at internationally renowned law firm Kirkland & Ellis, plaintiffs'-side class-action giant Robbins Geller Rudman Down, and at the Office of the San Francisco Public Defender.
While at Robbins Geller, he worked on behalf of cities and counties across the U.S. suing the opioid manufacturers for the irreparable damage caused by their products. During his time at the San Francisco Public Defender, Mr. Werksman assisted in a trial resulting in an acquittal on all felony counts for his client.
Mr. Werksman obtained his law degree from Stanford Law School where he founded and served as president of the Stanford Plaintiffs' Lawyers Association. While at Stanford, he also served as co-president of the American Constitution Society (ACS) and earned prizes for achieving the highest marks in several classes, including The Plaintiffs' Lawyer: Institutional Constraints and Ethical Challenges. He also served as research assistant to Professor Nora Freeman Engstrom, a scholar on tort law and legal ethics. Mr. Werksman completed his undergraduate studies at the University of Pennsylvania, where he graduated summa cum laude double majoring in History and Spanish.
Nathan is very involved in the New York legal community and in making New York a more just place for the injured.  He is on the Board of Directors of the New York State Trial Lawyers Association, is a member of the Products Liability Committee at the New York City Bar Association, and is on the Executive Committee of the UJA's Young Lawyers Division.
Fluent in Spanish, Mr. Werksman is admitted to practice law in New York, California, and Nevada.
Jon Davidi
As a trial attorney at Panish | Shea | Boyle | Ravipudi LLP, Jon Davidi represents individuals in complex personal injury, wrongful death, and product defect cases. Passionate about trial work and representing people in their time of need, Mr. Davidi has obtained over $10 million in verdicts and settlements for his clients.
Most recently, he obtained two jury verdicts that were more than double the defense's best offer. Notably, one of those verdicts was awarded during the first post-Covid, socially-distanced jury trial in Orange County, California.
Mr. Davidi received his J.D. from the University of California, Hastings College of the Law where he was a member of the Honor Society and graduated cum laude. He was also a member of the mock trial team and recognized as one of the nation's top advocates after winning the National Championship in the American Association for Justice (AAJ) Trial Tournament. Throughout the competition, judges commented on his ability to be persuasive and to evoke compassion for his client.
Fluent in Farsi, Mr. Davidi is a member of the State Bar of California as well as an active member of both the Consumer Attorneys Association of California (CAALA) and the Consumer Attorneys of California (CAOC). Outside of work, he enjoys live music, new restaurants, and the Los Angeles Lakers. Ironically, he's never seen an episode of Law & Order.
Show Sponsors:
Legal Technology Services - LegalTechService.com
Digital Law Marketing - DigitalLawMarketing.com
Harris Lowry Manton LLP - hlmlawfirm.com
Free Resources:
Stages Of A Jury Trial - Part 1