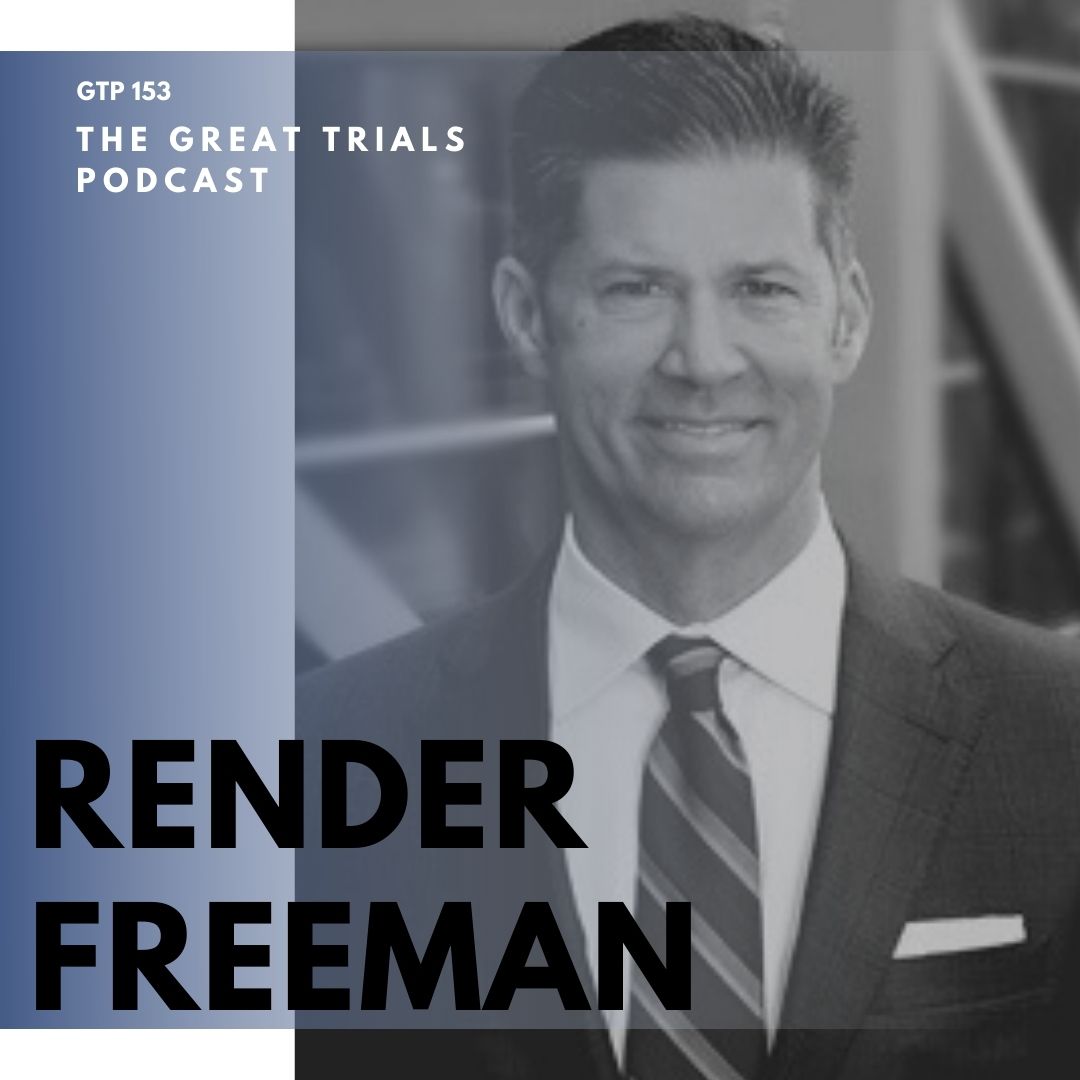 This week, your hosts Steve Lowry and Yvonne Godfrey interview Render Freeman of Andersen, Tate & Carr, P.C. (https://www.atclawfirm.com/).
Remember to rate and review GTP in iTunes: Click Here To Rate and Review
Episode Details:
Georgia trial lawyer Render Freeman, a partner at Andersen, Tate & Carr, P.C., explains how he secured a landmark verdict for the grieving widow of a metro Atlanta orthodontist who was killed while riding his dirt bike at a popular off-roading park in Union Point, Georgia. On September 28, 2019, Dr. Adam White was riding his dirt bike on the trails at Durhamtown Off Road Park when he was fatally struck by a 62-foot falling tree. The tree was knocked down by an excavator being driven on the track, which was a direct violation of Durhamtown Off Road Park's rule prohibiting maintenance or construction work on the track while it was in use. Durhamtown owner Mike McCommons' negligence in bringing an excavator onto the active trail served as a major focus at trial. Despite the court's ruling on the inadmissibility of evidence in three other deaths at Durhamtown Off Road Park as well as McCommons' attempts to avoid personal liability with the selling and re-branding of the park, Freeman convinced the jury to make a strong statement by delivering a verdict in this tragic wrongful death case. On April 29, 2022, a Greene County, Georgia jury found McCommons and five associated corporate entities liable for Dr. White's death and delivered a $22 million verdict. This is the largest verdict ever awarded in the Ocmulgee Judicial Circuit and in Greene County, Georgia history. 
Click Here to Read/Download Trial Documents
Guest Bio:
Render C. Freeman
Render Freeman has dedicated his legal career to helping injured victims hold wrongdoers financially responsible for their carelessness. As a trial attorney, Mr. Freeman has a broad range of experience in litigating complex disputes, including wrongful death, personal injury, products liability, motor vehicle and trucking collisions, medical malpractice, nursing home abuse and malpractice, premises liability, negligent hiring and negligent security. Mr. Freeman has been lead trial counsel in jury trials all over Georgia from Federal District Court in Atlanta to smaller Superior Courts in the remote corners of our State.
Mr. Freeman has developed a national reputation for expertise in litigating and trying personal injury lawsuits. He has lectured in Palm Springs, CA; Boca Raton, FL; Newport, RI; Rogers, AK; Cincinnati, OH; Fargo, ND; and other cities around the country. Mr. Freeman is a 2015 graduate of the Trial Lawyers College in Wyoming – an exclusive 4-week program providing advanced training for personal injury trial lawyers. Mr. Freeman is an active member of the Georgia Trial Lawyers Association and the American Association for Justice ("AAJ"), regularly attending advanced seminars to hone his litigation and trial skills.
Show Sponsors:
Legal Technology Services - LegalTechService.com
Digital Law Marketing - DigitalLawMarketing.com
Harris Lowry Manton LLP - hlmlawfirm.com
Free Resources:
Stages Of A Jury Trial - Part 1